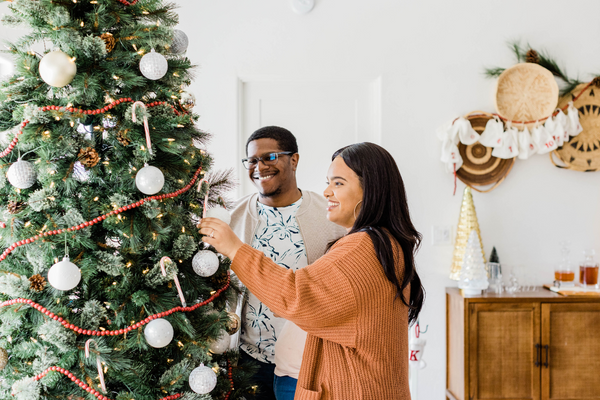 Stress Less: Presence Over Presents
Mindfulness can help you turn the worst days or situations into something better, especially during the holidays!
Mindfulness Matters
This time of year provides a perfect opportunity for us to evaluate the importance we place on our "presence" rather than "presents." Time seems to fly by however, especially during the holidays, making it more difficult to be and feel present… unless you have a plan! The last couple months of the year deserve a strategy – one that ties in the other healthful habits we have created over the course of the year, as well as special tips specific to the season.
It is all too easy to allow the hustle and bustle of the holidays to stress us out more than we care to admit, whether it's the social activities, the planning, the cooking, the financial demands… you get the picture. (Do you get a knot in your throat just thinking about it?) Stress can negatively affect our physical well-being, mental health, mood at work, ability to unwind at home, and so much more. It controls a lot of our life, while we seemingly can't control it! One strategy we consistently revisit is the practice of mindfulness.
Here are some tips to bring mindfulness to the forefront of your holiday experience:
Step One: Adjust Your Expectations.
"Tonight will be great as long as all the food comes out hot at the same time, everyone shows up on time, and no one argues." We can all create the "perfection situation" in our minds, yet we all know that how we lay it out mentally is rarely how it plays out in real life. That gap from our expectation to reality has been known to cause much of the stress this time of year. Adjusting your expectations is primarily about embracing change, which is inevitable as the years go by, and about understanding our true control in and over situations. We can only control our own actions and responses!
Listen to your emotions. Deep breathing, journaling, meditation, and other practices that help you center and evaluate yourself and your circumstances help you understand "where you're coming from." (It can also provide perspective regarding the actions and responses from others…) Meaning, every conversation, every text, every late arrival…it all elicits some kind of response. Maybe one of grace and patience the first time, then frustration the next! These responses then play a large part in your experience and in your presence!

Be flexible. To-do lists and delegating tasks are a great way to help you manage your time wisely. What needs to be done (in order of priority)? Who can all help? Time is energy and energy is time. Work through each moment, rather than worrying about the next. Productivity increases, but even more importantly…your experience becomes more pleasant and memorable, as well!

Make conscious decisions. Going with the flow with small, daily decisions saves us energy and brain power to tackle some of the more challenging choices. Yet, during the holidays, we often go on autopilot – eating and drinking all the things, depriving ourselves of sleep to spend time with everyone, etc. Living from a place of mindfulness, of presence, means consciously making choices NOW. Enjoy the moment while but also consider how these choices will impact your FUTURE.
Step Two: Put Words Into Action.
"Holiday activities can add stress in many ways such as having more things to do, more disruptions of your daily routine, more disturbances of rest sleep and rest, and dietary changes in what you eat and drink."
Does this situation sound familiar? The holidays affect everyone in different ways, but it's always important to prioritize ourselves, just as we would act kind and compassionate towards others. There's enough holiday spirit for everybody!
Like we mentioned in the first tip, embracing flexibility (understanding and accepting that the holidays won't be perfect) will significantly lighten the load of stress we typically burden ourselves with during this time. Here is one of our favorite holiday mindfulness exercises. Let these mindful questions guide you to a present, peaceful, and reflective state of mind.
Also see this Joyful Holiday Webinar, presented by Terry Gehrke, for a quick and easy mindfulness exercise follow-along!
Step Three: Give the Gift of Health.
When you give the gift of health, both you and your loved ones benefit from the exchange. Not only do you save money on material items (unless it's something like workout gear, gym equipment, etc.), but you also show the receiver that they are cherished, appreciated, and you value their presence and health.
Healthy gift giving may look like:
a trial class at a studio your friend has been talking about;

a healthy cookbook for your aunt who wants to eat more at home;

an oil diffuser for your dad who wants to focus on mindful strategies for improving his mental health;

a one month subscription of protein powder (or insert other item here!) for your sister who wants to prioritize muscle growth in the gym;
Or it may be a little more personal, such as:
your favorite healthy recipe handwritten for your brother in college who is learning to cook with whole foods;

a free "voucher" for your mom that is redeemable for one whole day spent with you;

a journal filled with fun writing prompts for your grandma who is retired and wanting to pick up a new hobby.
All of these options can benefit their well-being. In some way or another, it encourages them to take care of their physical health, prioritize their emotional health, increase productivity in their occupational space, balance their environment, or enjoy being social!
Gift giving can be hard– but when you focus on giving an experience, or something that contributes both to your health and that of the person you're giving to, it's not so complicated and a lot more fun!
Step Four: Above all, Reflect AND Celebrate.
All of the actions above create opportunities for you to stop, pause, and take a moment to be mindful. In some cases, it's to prioritize your health, and in others it's to tend to the health of the ones you love. Even though the wave of New Year's "quick fixes" is on the horizon, there is strength in celebrating your current wins and reflecting on areas of improvement! Journaling is a gentle way of doing both of these things.
Consider writing down some of these mindful journal prompts before the new year:
What is one personal highlight from each month of this year?

What is one challenge I faced this year that I overcame? What are three things I learned in doing so?

What have I done this year to improve my health? What can I plan to do next year?

What is one thing you can do today that you didn't think was possible a year ago?

Keep a gratitude section to share with your family during the holidays. Build on it by adding at least one gratitude a day!
Taking time to focus on yourself during the holiday craze might just turn your next party or celebration into a stress-less time, allowing you to focus on making memories and appreciating presence more than presents. When you slow down, it also allows you to look ahead to the incoming year. Even though healthy lifestyle strategies stay the same, the way you approach your goals may change. If you're ready to commit to and achieve your optimal well-being, stay tuned for January's blog!