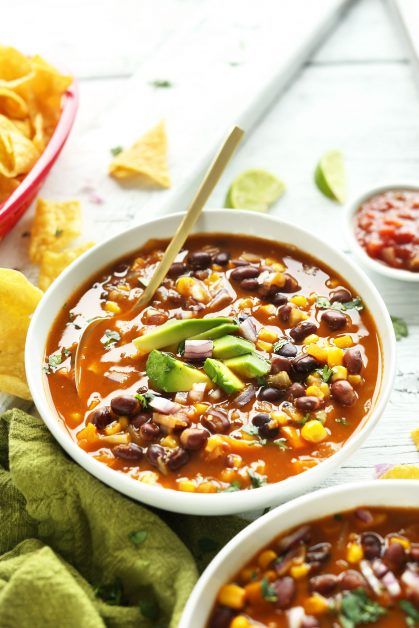 Recipes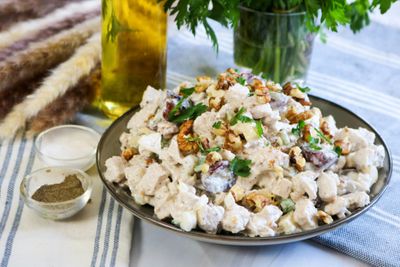 Healthy Turkey Salad with Grapes, Apples & Walnuts
Move over chicken salad, Healthy Turkey Salad with Grapes, Apples and Walnuts is a great way to use up Thanksgiving leftovers and enjoy a deliciously, low calorie lunch.
Source: Food Done Light
Ingredients
2 cups finely chopped turkey breast
1/4 cup chopped apple
1/4 cup chopped grapes
1/4 cup chopped onion
1/4 cup chopped celery
1/4 cup chopped walnuts
2 to 3 tbsp low fat mayonnaise
2 to 3 tbsp . 2% fat plain Greek yogurt
1/2 tsp . kosher salt
1/4 tsp . fresh ground black pepper
Instructions
In a medium bowl, mix all the ingredients together starting with 2 tbsp. of mayonnaise and yogurt. If you want creamier turkey salad, add the remaining tablespoon of each.
Cover and refrigerate for an hour.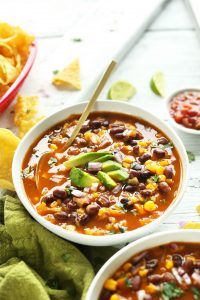 CHIPOTLE BLACK BEAN TORTILLA SOUP
The weather's getting colder and we need warm meals that keep us fuller, longer! Packed with fiber and protein, give this simple soup recipe a try!
Source: Minimalist Baker
Ingredients
2 Tbsp avocado or coconut oil
1/2 white or yellow onion (diced)
3 cloves garlic (minced)
1/2 red or orange pepper (diced)
1 1/2 tsp cumin
1 tsp chili powder
1 1/2 cups Red Chipotle Salsa (or any blended or chunky spicy salsa)
4 cups vegetable stock (DIY or store-bought)
2 Tbsp coconut sugar or maple syrup (to taste) (optional)
2 15-ounce black beans (cooked in salt // slightly drained)
1 15.25-ounce whole kernel corn (drained)
FOR SERVING optional
Lime juice
Fresh cilantro (chopped)
Red onion (diced)
Tortilla chips
Ripe avocado (cubed)
Hot sauce
Instructions
Heat a large pot over medium heat. Once hot, add oil, garlic, onion, pepper, an a pinch each salt and pepper and stir. Cook for 4-5minutes, stirring frequently, until onions are translucent and the peppers have a bit of color.
Add cumin and chili powder and stir to coat. Then add salsa, vegetable stock and coconut sugar. Stir to combine, then increase heat to medium heat and bring to a low boil.
Once it's boiling, add black beans and corn and stir. Reduce heat to low and simmer, covered, for 30 minutes or more, stirring occasionally. The longer it simmers, the more the flavor will develop. It's even better the next day.
Serve as is or with recommended serving options above.
Leftovers will keep covered in the refrigerator for 5-6 days or in the freezer for 1 month.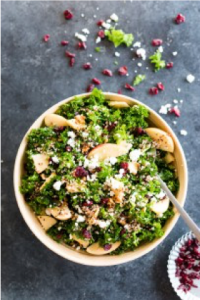 Kale, Apple, and Quinoa Salad Recipe
Source: Cooking Classy
Author: Apple of My Eye Serves: 8 servings
INGREDIENTS
½ cup tricolor dry quinoa
1 large bag of precut kale
1-2 Fuji apples (cored and sliced)
1 cup walnuts, lightly toasted and roughly chopped
½ cup dried cranberries
½ cup goat cheese, crumbled
½ cup olive oil
Juice of 1 lemon
2 tbsp sugar
1.5 tsp dijon mustard
Salt + pepper to taste
INSTRUCTIONS
Cook the quinoa using the directions on the package.
Whisk together the olive oil, lemon juice, sugar, dijon mustard, and salt and pepper to taste.
Put the kale into your salad bowl and pour ¾ of the dressing on top, tossing to combine. Refrigerate until the quinoa is done cooking.
Toss together the kale, quinoa, apples, walnuts, cranberries, goat cheese, and remaining salad dressing.
Refrigerate until time to serve!